Has anyone ever made their own homemade face masks? The idea of using all-natural ingredients for an at-home spa experience is pretty appealing, but it also seems a little weird (not to mention sticky and gooey) to slather things like mushed up banana on your face. Of course, that's probably better than the chemical laden alternative, right?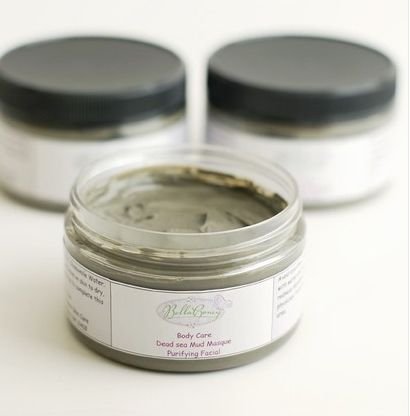 Dead Sea Mask by Bella Honey Body Care
I did a little internet research and have shared the best of what I found below. However, please feel free to share your own experience, links, or tips in the comments section.
According to one online article, "
Get Stuck in the Mud with Clay Facials
," clay offers a drawing power and has been used for many years as a natural remedy for ailments. Green and white clays are able to clean pores and refine skin structure, supposedly effective in removing blemishes.
Nature Purity
sells a few different live clay powders and they also offer a
recipe for masks
as well (scroll down to Custom Beauty Masks).
Green Options
lists a few different DIY face mask recipes. You can find everything from a honey and yogurt concoction to a slightly more complicated cornmeal, lavender, and sage creation.
Whole Living, a great DIY magazine (it's published by Martha Stewart after all), posted two great facial masks recipes: a
Balancing Facial
, which includes "moisturizing avocado, inflammation-fighting cucumber, and mineral-rich green clay," as well as a
Skin Brightening Facial
, where unripe papaya helps dissolve dead skin cells (apparently this one should tingle!)
I think I might aim for the Balancing or Skin Brightening Facial in the next few weeks. I'll keep you updated! :)