Yeah, yeah, I'm late on this. Leave me alone. I'm pregnant. :) If you frequent wedding blogs, you may have already seen some Eventology posts, so I'll try to keep this short and sweet. This is a summary of my own experience and thoughts.
Last week I had the pleasure of attending Eventolgy 2010, held in Indianapolis. No, there's not a lot going on in Indianapolis. How could there be? One of it's nick names is "nap town." (In the early 1900's, it was considered a ghost town, which is where the nickname comes from.) But I can't complain, I wasn't exactly there to sight see. I went to educate myself on all things wedding and business, and hopefully meet a few friendly folks as well.
Conference rooms, Eventology (photograph by Jen Lynne Photography)
I have to admit, I was nervous. I went alone, I'm 6 months pregnant, and as my husband walked me to the security gate at the airport, I started to tear up realizing how much I would miss him. Oh, who are we kidding? I cried! Damn pregnancy hormones. I felt semi-pathetic trying to maneuver my carry-on luggage and newly acquired, yet bulky laptop bag, like a traveling business pro. Did you see Clooney in "Up In the Air" when he goes through security? Yeah, I was nothing like that. Long story short, me and my baby belly manage to get to the plane, sit down, and arrive in Indianapolis all in one piece.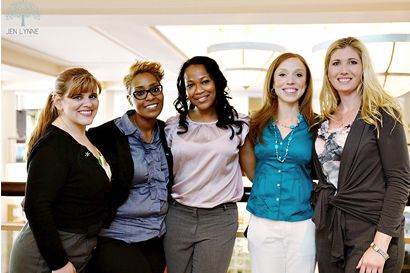 Featured speakers at Eventology (photograph by Jen Lynne Photography)

Once I settled in at the Omni, which is where Eventology was held, and relaxed a little bit, I spent my first evening in the hotel bar meeting people I had only previously chatted with on Twitter. My nerves started to calm a little and I spent the next two days soaking up some great information! We were treated to inspiring presentations from power house hitters in the wedding industry, such as Harmony Walton of
Bridal Bar
, Saundra Hadley of
Planning Forever
, Terrica Skaggs of
Cocktails and Details
, Lara Casey of
Southern Weddings Magazine
, Sasha Souza of
Sasha Souza Events
, and NaShara Mitchell of
Ready to Blush
.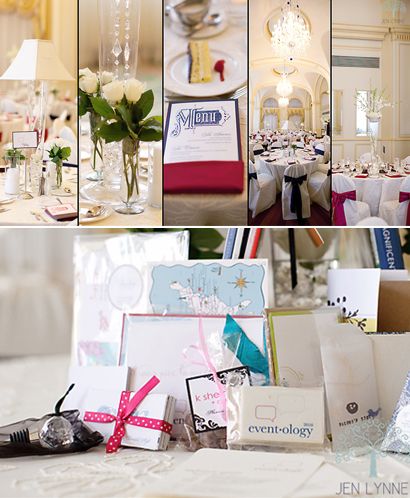 Swag Bag Goodies (photographs by Jen Lynne Photography)
Overall, I had a fabulous time. I met some great people, saw some old friends, and honestly came away from the event with a wealth of knowledge I certainly did not have before. I know more than a few planners visit this site (to which I am ever thankful for). If you're a shy gal, I wouldn't let that deter you from going next year. I'm not an extremely outgoing person and I found most everyone to be super nice and friendly. And if you think no one likes you, you can always spend evenings in your room, on the super comfy bed, watching t.v., and ordering room service... Gee, what torture.
I won't bore you with the details of everyone that I met, but a quick shout out: I was super excited to meet the adorable Aletha of
Pearls Events
(pictured above on the left), who I feel like I've known forever just through blogging. It was also great to meet
Saundra Hadley
(pictured on the right), who has always supported Earthly Affair and whose offline personality was just as infectious as her online one. And that's me in the middle! Can you see my basketball belly?
Huge thank you to the beautiful Jennifer Badalamenti of
Jen Lynne Photography
for letting me use her photos.