I know I post on here quite often about taking advantage of handmade, vintage, re-purposed, etc, but do I practice what I preach? Yes, for the most part! I am more a "buy used" kind of girl simply because "vintage" tends to be out of my price range, but every once in a while I splurge.
Today I just wanted to share my own little adornments. These little things that contribute to my somewhat discombobulated style, which I'm still trying to establish. Below is my first baby bump pic and the dogs romping in the snow. (If you follow my
Twitter
feed, you may have already seen this pic.) And that's my favorite Winter hat, purchased at
Edie's Hats
when visiting Vancouver, Canada (my favorite city, even over Paris and London, but a close second to Florence.)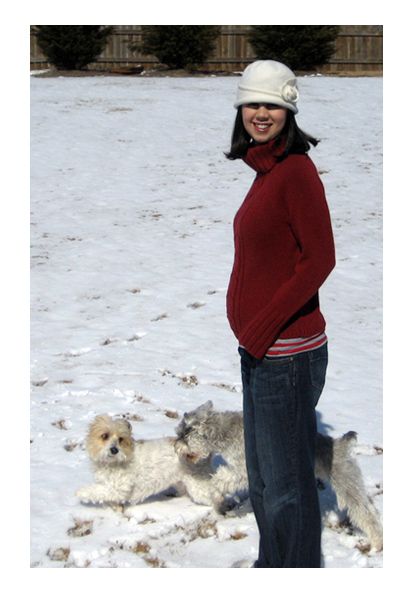 And this is my most favorite accessory! This is what the hubby got me for Hanukkah, per my request. Okay, I have to admit... One of the reasons I like it so much is because nobody else has it. I get asked about this purse a lot. In the grocery store, in the mall, at conferences, etc... And I love it. It's handmade in Japan by
Tago Design and Crafts
, a small shop run by this
talented gal
.
What is your favorite accessory? Is it a pair of shoes? An heirloom piece of jewelry? And if you're getting married, do you plan on incorporating it into your wedding?
Leave a comment and consider posting it on your own blog with pictures!