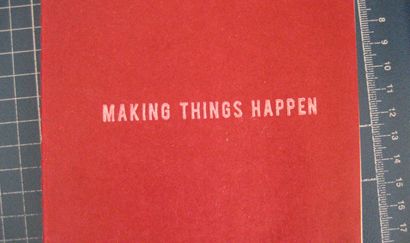 You'll have to forgive me today as I am digressing from regularly scheduled blogging. Instead, I'm going to divulge what's been going on behind the scenes of the Earth Friendly Weddings blog and
Earthly Affair
(we're one and the same for those who don't know). I have to thank
Lara Casey
and her amazing, intensive workshop,
Making Things Happen
, as well as
Jeff Holt
and
Emily Ley
, for encouraging me to reveal more of myself to you. This workshop forced us to explore some of our deepest fears, which I've shared with you below - straight from my notebook. This workshop has also been the catalyst for big changes on a personal and professional level, which are only in the cogitative phase, but still an exciting and scary prospect.
(My three biggest fears are failure to myself and to others, not being a good wife and mother, and being broke!)
So here goes my friends:
You want to know something weird about me? I like to learn new words. The more complicated the word the better. And the reason is this: If I knew more words, I think I would be better at expressing myself. This only works to a degree, because no matter how expansive my vocabulary is, to truly reveal one's self is difficult. (And for the record, my memory is terrible so I don't remember half the words I learn.) So I'm just going to tell you my story as if we were chatting in a coffee shop. Friend to friend.
I started Earthy Affair while I was working full time as a graphic designer. It wasn't a bad job. There were parts I liked and parts I didn't, but that's how it usually goes, right? At some point, I realized the corporate life wasn't my cup o' tea. I had to get out. I was suffocating. So I worked really, really hard to bring this little business of mine to life. Coming home at five-thirty and working until eight, grabbing some food, and then working some more. One night, I just laid in bed and cried because my biggest fear was that I would fail. With my head buried in the pillow, my husband took me in his arms and consoled my heart with a speech that gave me new life. I kept going and with a lot of love and support, Earthly Affair was born.
That journey began in 2007. Here I am today, 28 years old and due to have a little girl in July. Yes, that's some big news, which quite honestly has me somewhat terrified. Although I am excited, running a business and taking care of a child is scary, but I know it can be done. I've realized in my haste to bring Earthly Affair to the world, I never really took stock of how I, as a person, could make this brand so much stronger than what it is. At the risk of sounding like the biggest cheese ball alive, I have ridiculous amounts of love in me. (And now that I'm pregnant? Forget it! I get teary eyed over pictures of puppies.) One of the reasons I never really focused on wholesale with Earthly Affair is because I truly love each and every one of my customers. I refuse to give up that connection. When I fail them (which is few and far between, but I'm not going to lie, mistakes happen), my heart breaks and I feel as if I let down a friend. I am so honored and overjoyed to be let into their lives, even if momentarily, it's a feeling which no
word of the day
has been able to encapsulate thus far.
I'm not sure exactly what changes are in store, and it may be a while before they are realized, but I ask you to be patient with me. I so appreciate each and every one of you who read this. For it's because of you I feel a little less insignificant in this big, crazy world.
Alright, we'll be back to regularly scheduled wedding stuff tomorrow. :)