If you're ever worried about intruders, you can take your old light bulbs, crunch them up and sprinkle the pieces all over your floor. That way, when someone tries to quietly break into your house or apartment, you'll hear the "crunch, crunch" of their shoes on the broken light bulb bits.
Yeah, I saw that in a movie. It's not that good of an idea for the regular guy or gal... Too much clean up. Unless you're a spy or something.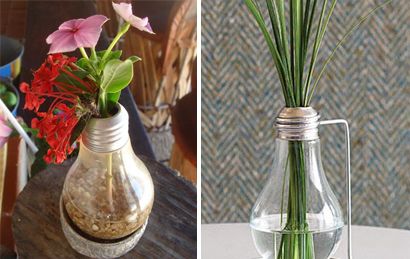 Fortunately, Re-Nest has some much
more creative ways to re-use those old bulbs (pics above)
. Some of them are completely wedding decor appropriate!