Adding the word locavore to your vocabulary, if you haven't already done so, is an easy thing to do. It's an easy word to say. The definition is easy to remember. (Locavores are people who strive to eat only locally grown foods.) And to be a locavore is a wonderful thing for the environment and for your local economy. In my own life, I try to maintain an awareness of where my fruits and vegetables come from, but I tend to grab whatever meats and dry goods I need. I love the
idea
of being a locavore, but the limiting of my options scares me. I'm not sure why, considering it's typically the overabundance of options at my local grocer that causes dinner making strife.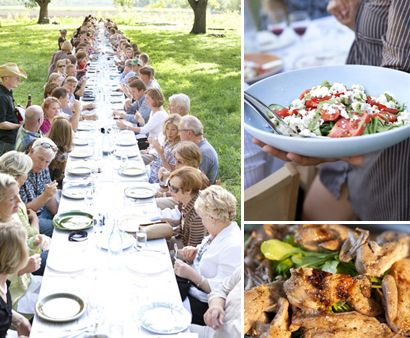 But I was blown away when I saw this magnificent farm-to-table feast on
Country Living
, created by
Outstanding in the Field
, a traveling locavore group. It really just goes to show that even if you're not a hardcore locavore, your wedding can be with the right team of people. This particular event was held at
Johnson's Backyard Garden
, a 70 acre certified organic farm just five miles east of downtown Austin, Texas.
What about you? Are you a locavore? Have you tried it and are you using only local foods in your own wedding menu?
Visit
Eat Local Challenge
for ideas and resources.