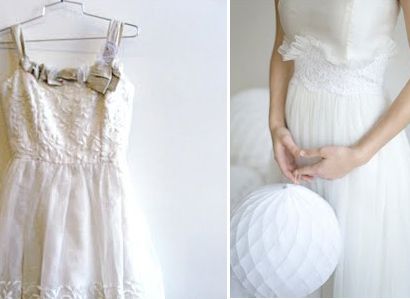 This weekend, I really plan to get out the sewing machine and learn how to use that freakin' thing. I have actually sewn before. I made a pillow and a little stuffed cow. Oh, and some pants. But it was all done under supervision and it was about 15 years ago. Wow, that makes me feel old.
The lovely dresses above are the creation of
Elizabeth Dye
, who owns the Etsy shop
The English Dept
, among other things. I'm not sure if Elizabeth actually sews these or has someone do it for her, but regardless, the frilly feminine frocks really make me want to jump right into dress making. I should probably start with curtains though.

Considering my mind is currently swimming in a sea of creativeness, this week's list will center around crafty things and the sort.
Hand painted flower pots at
Cherry MenLove
Non-traditional sushi serving set from
Alma Pottery
Win: This delightful book, Simple Sewing, over at
Life's Rich Pageant
Coconut Milk Fudge
. One word: sinful.