Has this ever happened to you? It's a beautiful day. You wake up. The sun shines through your window and in a Disney-esque move, you swing from your bed to the shower to your closet all with a bluebird on your shoulder. And then all of a sudden, BAM! Something happens which causes the realities of life to punch you in the gut and you shuffle around with a melancholic attitude for the entire day.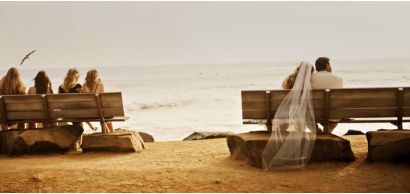 Sometimes this happens to me. I get this inexplicable moodiness, which I believe is the result of just a bunch of little stresses adding up. And then one day it kind of hits me all at once. Now chronic stress and depression require the attention of a doctor, but the occasional blues, especially when planning a wedding, are normal if not expected. Personally, I'm a fan of exercise, yoga, and meditation. However, there may also be a chemical component to feelings of sadness. Our brains are continually producing serotonin, a chemical which many researchers believe influence mood. (If you have unnaturally low levels of serotonin, you should see a doctor, as this can possibly lead to anxiety, panic, and excess anger.) So next time you're feeling a little down, try these tricks to naturally boost your serotonin levels:
**If you have anything you like to add, please feel free to share what makes you happy in the comments**
- According to
Whole Living
, eating complex carbohydrates, such as whole grains and barley can increase serotonin levels.
- Tryptophan (yes, the crazy sleep inducing stuff we feel after a Thanksgiving meal) is the necessary amino acid our body needs to produce serotonin. Eat small amounts of high-tryptophan proteins, such as turkey, cheese, and eggs at every meal or as a snack.
- Leafy vegetables such as Kale and Bok Choy are high in Vitamin B, which is helpful in converting tryptophan to serotonin.
- Although there is no proof, it is believed that exercise also increases serotonin levels.
Some other ways to treat the wedding blues:
- Start the day by doing something that makes you happy. Roll around on the floor with your pets, cuddle with your significant other, or eat a healthy breakfast.
- Talk to a good friend. Just chatting with a girlfriend about whatever is troubling you can help you feel better in the end.
Additional source:
WebMd
Photography by
Brooke Mayo