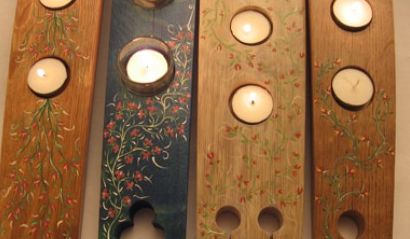 Long rectangular tables can add an elegant, modern feel to your wedding. But round centerpieces don't always work with a rectangular table. These hand painted votive candle holders from
Stil Novo Design
are made from oak wine barrel staves and the shape is certainly conducive for a long table. Dressed up or dressed down, they are a great alternative to traditional floral table decor.

It's Friday again! Hope you all have a wonderful weekend ahead of you. For me? A little work, a little play, a little sunshine happiness. :)
Wish Upon A Wedding
is a venture exploding with some of the warmest possibilities. Their aim is to grant wedding wishes to those facing a terminal illness and they already have their first recipient!
Love the color palette of these chunky
bubblegum-like necklaces
.
Thank you to
Ninotschka
for listing Earth Friendly Weddings as one of her favorite wedding blogs!
I was never really a daffodil fan until I saw
this
. Maybe I'm just craving yellow in lieu of not getting enough sunshine this winter.
Registering for fancy shmancy silverware? Read up on
six non-toxic ways to keep it spiffy
.