One thing is for certain: you give people control over a camera, a little bit of wedding booze, and you're bound to come up with some hilarious, if not blackmail worthy, images!
Thomas Marlow
creates custom designed photo booths that are ready to travel anywhere in the world. I love the designs, but I think the most appealing element is the amount of fun your guests, and you and your groom, will have in front of the camera. And Marlow is not without his green-ness.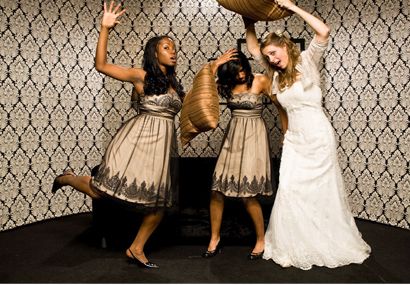 The backdrops are made from unprocessed muslin and the paint used is recycled from construction sites.
The props are rented and returned (including seating and lighting).
The set elements are recycled into other designs and are sourced from suppliers who are green (reused flooring, reused silk flowers, etc...).
The aluminum frame was sourced from recycled aluminum cans and the drapes that surround it were recovered from a retailer who was going to trash them anyway.