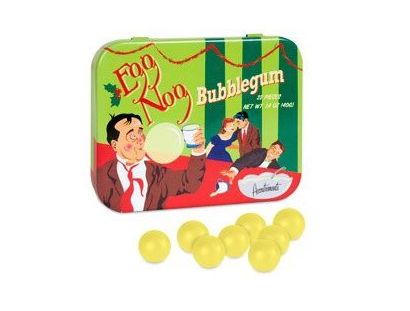 Eggnog flavored gumballs
! For when drinking eggnog is not a possibility, you can chew it for a while. I am of course assuming these don't have alcohol. ...I'm pretty sure they don't.
Blagh. My energy seems to deplete with every day that gets closer to Christmas. I suspect it's because even though I don't actually participate in the chaos that surrounds the holiday season, I find just
hearing
about it is exhausting. "What's that? Oh my God! You had to wait 30 minutes for a parking spot at the mall? Oh, that makes my eyelids droop - let me lie down for a minute." I guess what I'm getting at is that posting might be a little spotty between now and New Years. It's that time of year when we bloggers are granted permission to slack for more than two days without too many repercussions, but I promise to be back with regularly scheduled Monday through Friday postings on January 2nd. Until then, I hope you all have a wonderful holiday ahead of you. Be safe, stay sane, and eat your veggies!
Enjoy this short list of entertaining goodies!
-Saundra Hadley of
Planning Forever
never fails to crack me up. See why she thinks
Santa sucks
!
- For my Jewish friends, it's time to get "
Kosher faced
."
- Play
Browser Ping Pong