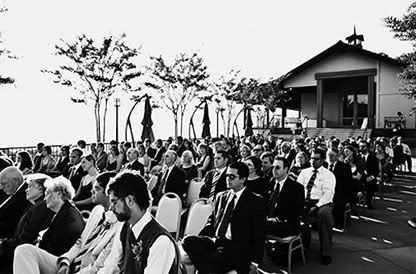 Choosing an outdoor venue can provide a wonderful backdrop for the day you and your husband-to-be exchange vows. However, whether it's a grand mountain view or a quaint English garden, it's important to remember this: your guests love you, but they probably won't be too keen on licking sweat beads off their upper lip for an entire three to four hours. Even if it's a beautiful 65 degrees Fahrenheit in June, when you're in the afternoon sun, you can start to feel like a baked potato rather quickly. Here are a few ways to keep your event eco-friendly, while keeping your guests cool and happy.
One, provide guests with recyclable fans that also work as programs. Popsicle sticks are a great way to turn any program into a makeshift fan, while ribbon and multiple sheets work well for long programs. Use 100% recycled paper if possible and make sure it's either white or ivory, as it is easily recycled and most sought after at recycling facilities. After the wedding, make sure guests leave their fans so you can recycle them later.
Two, keep people hydrated. Stay away from plastic water bottles and instead offer ice cold glasses of water and/or lemonade, tea, or juice. This may seem like a no-brainer, but you'd be surprised at how easy it is to forget the little things. If you plan on having a cocktail hour, just make sure water is available in addition to alcohol or plan on setting up a table where it's offered.
Three, if it's not apparent that you're having an outdoor wedding on your invitation, give guests a heads up by passing the word around beforehand. Some guests might appreciate this and will dress accordingly. It can be considered tacky to put dress code information on the invitation itself, so you could also direct guests to your wedding website, which would explain more about your outdoor venue in detail.
Photo by
Jesse Leake
, found via
Snippet and Ink