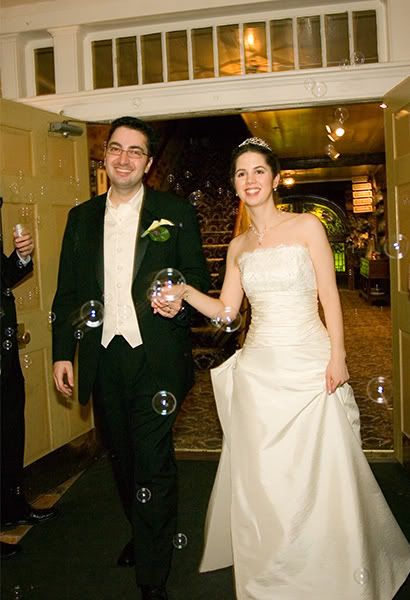 Ah, bubbles! The popular alternative to rice throwing! Safe for the environment and they can provide for a magical picture too, don't you think? (Unless you have like 5oo guests all blowing bubbles. Then you'd practically be bathing in the stuff) That's me and my hubby. We had only been married a few hours when that picture was taken. Well, now it's been a little over a year and I've realized I'M MARRIED TO A CRAZY MAN! Okay, I'm kidding, I love my husband dearly and he's not crazy...most of the time. Seriously though, what I actually realized is that I still have a whole bunch of those bubble wands, with the bubble stuff still in it, sitting in my closet. See, my day of coordinator had some left over from another one of her client's weddings, so we used those in addition to mine.
I have about 71 of these little wands (
they look like this
) so if anyone wants them, give me a holler and I'll mail them to you. Free of charge, as long as you live w/in the continental U.S. No point in having something useful sit in my closet! And then when you're done with them, you can pass on the re-using fun to one of your friends!
UPDATE: The bubbles have been nabbed, but thank you for all those who were interested! If you have anything wedding related you would like to offer or sell to other brides out there, e-mail me
(jns721 at gmail dot com) and I'll create a post to help spread the word for you.
And if you ever want to make your own bubble solution, it's pretty easy! Check it out
here
!
photography by
David Christensen (the most awesome photographer in Atlanta)