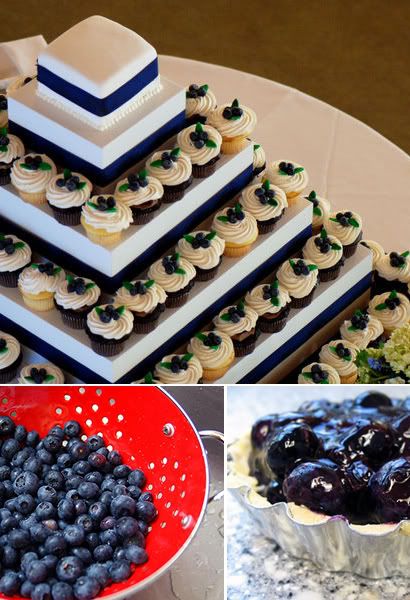 I'm on a diet...scratch that...it's not a diet, it's a "lifestyle change."
Yes, I'm on a lifestyle change which has me eating healthier and exercising regularly. This means no more sweets. Wait..scratch that too. Who am I kidding! I love sweets so I'm not taking them out of my diet completely, but I have promised myself to eat less of them. (I promise there is a point to this post - just bear with me.) So what have I been doing to curb that sweet craving? Eating berries, blueberries to be exact! Of course I throw in some strawberries, but I LOVE them blueberries! (we're getting closer now) And they're in season now so they're delish!
So this all got me thinking, why not incorporate blueberries, or any of your favorite fruit, into your wedding? You can buy them in bulk from your local farmers market or you could even grow your own if you planned early enough! I did some research and came across this
great article of a gal that helped her friend, the bride, bake 18 blueberry pies right before the big day!
Apparently it was hard work, but well worth the effort!
credits: top picture found at
StacyKane
, Bottom left found at
Flickr
, and bottom right found at
Baked Blog
.