Is it safe to say that frugality is now trendy? I keep seeing headlines that start with, "In this economy...," which only serves to remind us that times are tough, at least for some. And DIY is now nearly the norm when it comes to weddings. DIY flowers and stationery are pretty common, but what about the cake? I recently came across an awesome wedding where the bride had made a tiered lemon cake, recipe and instructions courtesy of Martha Stewart, but now I can't find the blog I saw it at. Anyone know what I'm talking about?
Anyway, the
Hungry Housewife made an awesome cake from Martha
(shown below), and although it was for her (non "girly-boy") husband's birthday, this pretty ruffle cake would do quite well for a small wedding. She says the icing is amazing and piping it around the cake is easy facheezy.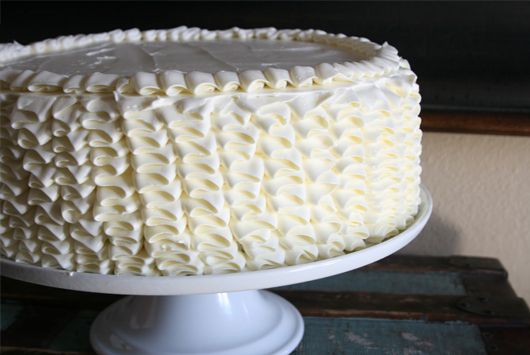 Want to dive into the cake batter a little more? Here are some DIY tutorials:
An oldie, but a goodie:
Tiered cake post from Melissa at Masterpiece Weddings
.
Cake Boss on TLC:
How to Make a Wedding Cake
.
Epicurious:
One of the great foodie websites weighs in
.
Fancy Shmancy:
Southern Living's Wedding Cake Recipes.