Okay, I'm officially huge! This belly bump is taking over. I need help rolling over in bed, getting off the couch, and old women with walkers actually pass me while I slowly plod through the grocery store aisles (you have no idea how accurate the word "plod" is). Now is the time that I am ready to have this baby. I would like to post pictures, but my husband has yet to take them off his camera. I'm tempted to put his e-mail here and ask all of you to send him an annoying message, but that would be too mean... right?
So anyway... it seems it will be forever before I can safely walk in high heels again, but that doesn't stop me from dreaming. Plus, these
cute little flowers
, made from vintage silk, can actually clip on to any shoe! Reaaaaallyyy......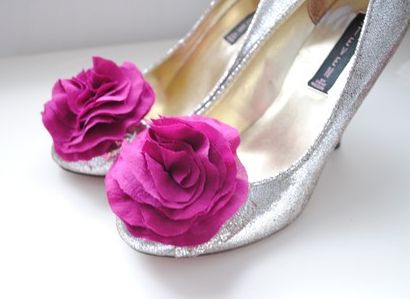 Found via Diagnosis Deferred
Happy Friday everyone!