Thank you for your patience during my absence. The hubby and I took a short break to Savannah, Georgia. Savannah is such a lovely place, I'll be sharing pictures soon!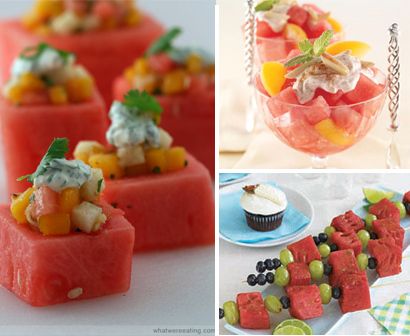 My husband swears that pickled watermelon is delicious! I'm not so sure, but I suppose I'd be willing to try it if someone presented it to me. Pickled or not, watermelon is a really tasty summer snack, especially when it's hot, hot, hot! Summer wedding? Opt for some light, refreshing, thirst quenching treats utilizing watermelon. And it's totally in season. Use
Local Harvest
to find a produce farm near you or ask your caterer to seek out local and/or organic watermelon growers.
Photo credit and links to recipes:
Left Image:
A Watermelon Cup, WhatWe'reEating.com
Top Right:
Watermelon and Peaches Dessert, LatinaStyle.com
Bottom Right:
Watermelon Kabobs, WomansDay.com