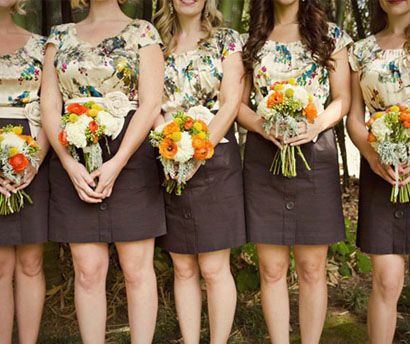 Photo By Jagger Photography
(Found via
Green Wedding Shoes
)
I've really been loving all the retro styled weddings I've seen lately on the interwebs.
(Green Wedding Shoes
has a wonderfully creative collection of
vintage weddings.)
Whether you are an eco-chick or not, if you decide to go the retro route, the first, and least expensive, step to creating your own retro/vintage wedding is to choose your color palette.
So where does one go for retro color inspiration? If your grandma's house hasn't changed much since 1975, that would be a good place to start! (Seriously!) Pop in a
Mad Men
dvd and check out what the office gals are wearing. You can also visit a flea market or antique store to get a general idea of what colors would have been popular during a certain era. Of course, if you're a computer literate woman with a penchant for the past (and aren't we all in some way), there are more than a few awesome websites to get your color inspiration:
The Vintage Ad Browser
,
Colour Lovers Retro Palettes
,
Mad Men's Fashion File
,
Vintage Clothing and Accessories
, and
Celebration of Vintage and Retro Design
.
(Items:
Vintage Fabric Pillow Case
,
Blenko Vintage Art Glass
,
Sweet Bella Vintage Phones
)