I love when people ask me for advice. I don't always know what I'm talking about - I mean, let's face it, I'm just some schmo who likes to blog. Well, that's not entirely true. I do write about eco-friendly content nearly five days a week, so I guess that makes me a little more knowledgeable than most people. I still feel like a regular blogging schmo though.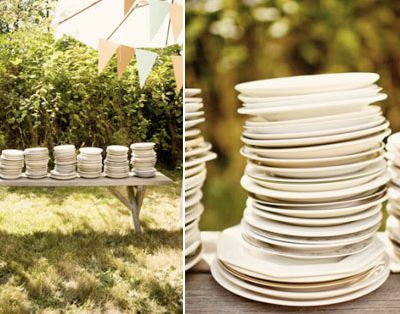 photo by Brookelyn Photography (found via Once Wed)
Yesterday, Sara of
All Things Pretty & Thrifty & Easy
posted a great question in the comments. The blogging bride-to-be is holding an outdoor winery/garden themed wedding and wants to know what's the more eco-friendly option: disposable, biodegradeable plates made of sugar cain, or traditional china plates.
Well, here's my non-official, semi-expert answer:

Re-use and minimize waste by renting tableware instead! Re-usable plates are eco-friendly, BUT only if they can be used well into the future. Biodegradable sugar cane plates are a great in terms of disposable options, but unless you have a compost heap or facility to bring these to, they'll just add mass to the waste stream. If renting isn't in your future, there is always the vintage plate collection, which lets you take advantage previously loved plates. (Like the Big Sur bride.) Having said all this, if disposable is all your budget allows for, then don't break the bank. Sugar cane plates keep trees standing and utilize "Bagasse," the fibrous sugar cane pulp which would otherwise end up in a landfill.


On to your second question: are disposable plates tacky? I think this all depends on the formality of your wedding. I believe you can get away with disposable plates for an outdoor, afternoon wedding when a fairly casual atmosphere exists. Anything else is a little iffy in my book.
What do you think readers? When are disposable plates acceptable for a wedding? Do you have any ideas for Sara?

My resources: Grist and Treehugger