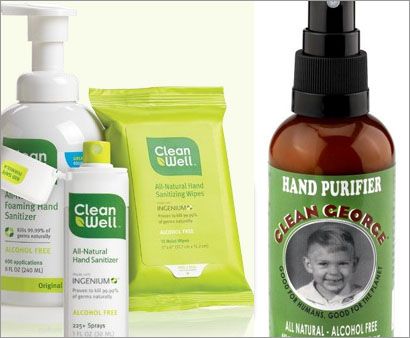 I think I am addicted to hand sanitizer. My husband, who I swear is a borderline germaphobe (he denies this avidly), is the person responsible for turning me onto these little bottles of hand cleaning crack. Rare is the time you will catch me without a bottle of it in my purse. However, as most of us know, not all products are equal when it comes to cleaning agents. Fortunately, there are a few, all-natural or eco-friendly, options:
If you're having a destination wedding, where guests may plan on staying abroad for a few days, a cute, but practical favor might be homemade sanitizer.
EcoSalon
has a very easy, DIY tutorial on how to make these yourself.
Ecologic
did a review of
Cleanwel
l, an all-natural, environmentally friendly sanitizer which comes in a reusable bottle. Last but not least,
Clean George
utilizes natural Tea Tree and Manuka oils to clean hands.
What about you? Do you have your own favorite environmentally friendly sanitizer? Or have you tried any of the products above?