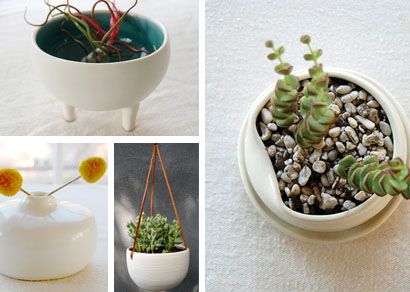 As I write this, I am sitting in a Starbucks while my car is being serviced. I am pleased to see this cute little demonstration of
re-use
on my table. (Sorry for the crappy cell pic.) It's a fairly good example of how creative you can be with your floral display. And this holds true for your home or your wedding. Although a bit more pricey than using a tin can,
Pigeon Toe Ceramics
creates really great pieces, usable for your own floral arrangements. They derive their style from "homegrown, depression era aesthetics," which might sound kind of, well, depressing, but I believe the simplistic nature of each piece is refreshing and can help create uniformity within your decor.
Hmm
...that sounds like the graphic designer coming out in me. Have a great weekend everyone!

Pretty, Thrifty, and Easy
has a great
DIY
video on floral arrangements.
Thanks to
Glue and

Glitter's
recent blog comment, I am all over this
eco
-disposable dinnerware made of
fallen leaves
.
Mint Cows
. Cool.
Contest: Enter to win a beautiful guest book at
Southern Weddings Magazine
from Dew Drop Designs.
Don't forget about our giveaway! Win the
book
, Planet Wedding!