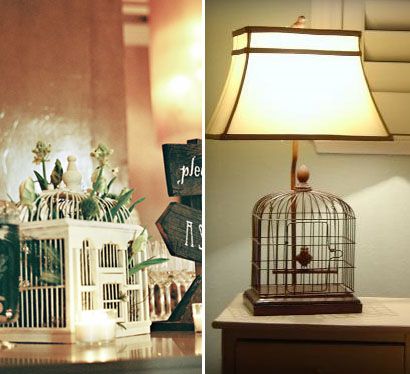 Decorative bird cages are really popular for weddings, but what do you do with it after the big day? You could try and use it as an actual bird cage, but most of these things are meant for decor only. Personally, I'm a fan of the
bird-cage-turned-lamp idea
. It's an eco-friendly way to upcycle your wedding decor and it would add quite a charming touch to your home decor.

Shout out to Seattle based
Emerald Green Weddings
, an eco-friendly wedding consultancy. They recently opened their virtual doors. Welcome EGW!
*Sigh* Although they aren't earth friendly, these colorful pouches are
really freakin' cute
!
Loving:
marriage.com
(how did they snag that sweet domain name!?)
Giveaway Alert! The folks over at
Recycled Brid
e
are giving away a beautiful Reem Acra dress.
DIY Fun: Awesome DIY Ketubah kit, found at
Something Old, Something New
.
Design Inspiration: Here's an
idea
for all those old, non CFL light bulbs.
Photo Credit: (Left) One Love Photo, (Right) Crafty Crafty