I used to hate cleaning. Okay, I still hate cleaning, but I used to think the stronger the product, the better it cleaned. I was all for bleach. Now, a little more health and environmentally conscious, I try to take advantage of more non-toxic cleaning methods (especially since I would really like to keep the remaining brain cells I didn't lose to the bleach.*)
Fortunately, there are many safer alternatives to keeping your home sparkling clean.
Green Daily
suggests using lemons as a polish for sinks and as an odor eliminator, cream of tartar mixed with water acts as a more abrasive scrubbing agent, and baking soda mixed with vinegar and water makes for a powerful all purpose cleaner. Around our home, we use a vinegar and water solution to keep our shower clean and
Trader Joe's
"Next to Godliness" multipurpose spray for our kitchen and bathroom.
Your laundry detergent is something else to think about, especially if you're like me and get super sexy rashes from all those chemicals. According to
Planet Green
, you can make your own with just four basic ingredients: water, bar soap, borax, and washing soda. I've never tried this, but I would love to hear from those who have!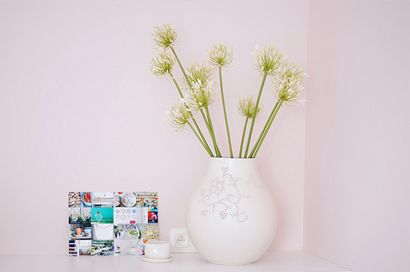 And last, but not least, this is a pretty humorous little video on the rather scary things that live in our cleaners: http://www.youtube.com/watch?v=-k9K8V2-Itw (Just FYI: This is safe for work, but it may not look like it to the guy walking by your cube, considering it contains a shower scene.
What do you do to keep your home a little greener? I'd love to hear your comments!
*I'm not really sure if bleach causes you to lose brain cells, but it sure does smell stinky.
photos from
Yvestown