Over the weekend, my husband and I went to a restaurant where one of the dishes included the vegetable broccoflower. It looked like a tasty pasta dish, but "Broccoflower," I questioned? Personally, I'm not a fan of either broccoli or cauliflower, so I couldn't imagine why someone would want to merge these two relatively unpopular veggies. But as it turns out, genetically altering foods is not an uncommon practice.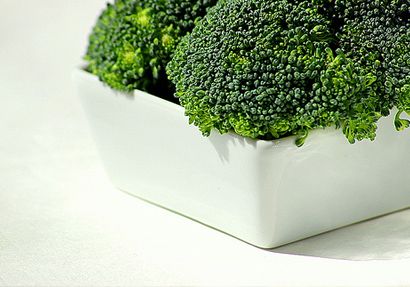 Before I start berating the practice, let me get some things out of the way. Genetic modification is complicated, widespread and controversial, but I'll be the first to admit it sometimes yields tasty results. (Pluots, for example, are a cross between plums and apricots and they are yummy!) But it also allows farmers to produce a more substantial crop which is naturally resistant to pests. Although potentially hazardous, if the FDA says it's safe (and for the most part, they do), you can understand why this would be an appealing option to certain farmers.
But there are a few reasons we should be wary of genetically modified foods. One is due to inadequate and scarce safety testing. According to
GlobalHealingCenter.com
, genetically modified foods potentially contain a variety of toxins, which our bodies can't process. And the other is due to environmental concerns. These genetically modified organisms can spread through the environment, and once they do, there's no turning back.
Greenpeace.org
writes that they learn to interbreed with other natural organisms and can permanently alter "future generations in an unforeseeable and uncontrollable way."
Unfortunately, genetically modified foods are everywhere. The only way to protect yourself is to buy organic, assuming your paycheck can handle it. Otherwise, you're already ahead of the game just by maintaining an awareness of the foods you ingest and the impact they have on your surroundings.
Note: Thank you to my readers who have so graciously pointed out that broccoflower and pluots are a result of cross pollination, a less questionable process than genetic modification.
Other sources:
Action Bioscience
photo credit:
Suzedge