Today I have a special treat!
Julianne Smith Wedding Garters
offers up a fantastic line of charming and colorful ribbon garters, including an
environmentally friendly selection
. Julianne herself was kind enough to answer a few questions, which you'll find below. Hope you enjoy learning about her handmade garters as much as I did!
Your garters are adorable! Can you tell us more about them?
Thank you for the compliment! I personally design and hand make all of my wedding garters. I designed my collection to be simple, chic and stylish...just like brides today! My wedding garters are hand crafted from materials made in the United States. The environmentally friendly, green garter collection is made from recycled plastic bottles.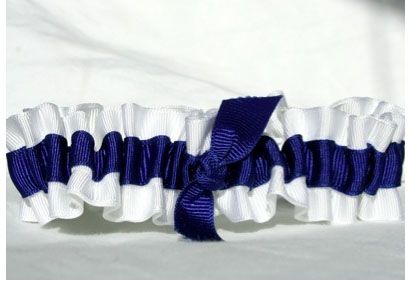 What inspired you to create an environmentally friendly collection of garters?

Being environmentally aware is personally important to me, so I wanted to be able to offer a green choice for brides. In the grand scheme of things, it is a small gesture to wear a green garter, but every little bit helps!
Are the garters handmade? How far in advance should someone order their garter?
All of my wedding garters are hand made by me. Orders generally take about two weeks, but I've certainly pulled off wedding garters faster than that for brides with rapidly approaching weddings.
Since you also do custom orders, do you have any special advice for clients looking to make their garter more personalized?

The wedding garter is hidden under the dress, so brides can feel free to take a risk and design a wedding garter that truly reflects their style and their personality. Are they polka dots? Animal prints? Classic and simple? I encourage brides to take some time after they become engaged to think about who they are and what they like before the start making wedding choices. If they go into their planning process with a strong sense of self, they are more likely to make choices that they will love forever. Your personality is never out of style!
And now for a wacky question: If you joined the circus, what act would you be most likely to perform?

Trapez for sure!