This was such a popular post from May 2008, I thought I would run it again. Enjoy!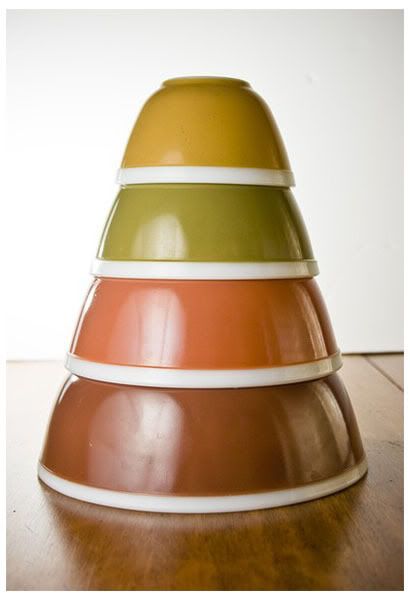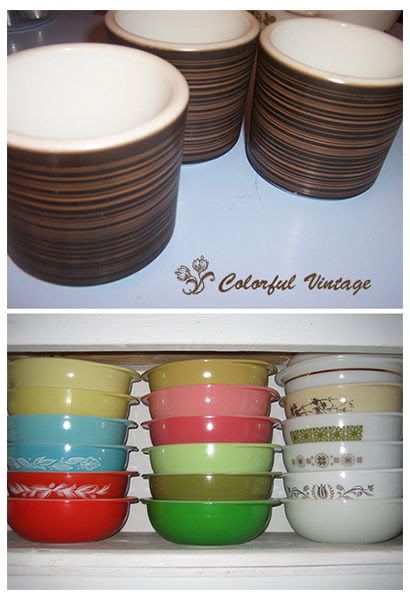 Earthtones, the earth friendly etsy guide, had a great article on shopping green (
see it here
) not too long ago. In the buying used section, they feature the fabulous vintage pyrex of the Etsy shop,
Thats Swell
. (pictured top) I was awed by the array of colors - so much like a grandma's kitchen - and I found myself googling the words "vintage pyrex." To my surprise, there is a whole world out there of pyrex, which many people collect and proudly display. In my opinion, these would be a great thing to collect, in moderation of course, because you can actually use them too. Unlike salt and pepper shakers (which I went through a period of collecting once) they don't sit on a shelf and collect dust until that one time a year you decide to put them on the table.
I think with some creativity you could use these as very colorful decorations set around your wedding. Fill with water and flowers to match the color of the bowl itself. Or use third party registry sites, such as
wishpot.com
, to register for vintage stuff on Etsy and ebay.

Check out the Pyrex Love Pool at Flickr
. (bottom pictures)