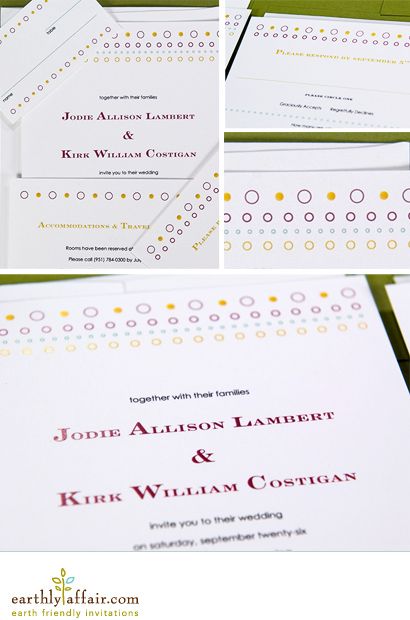 Above you will find the newest, non-official member of the
Earthly Affair
family. It's the Harmony invitation and although it hasn't been added to the website yet, it's available for anyone interested. And to give it an especially warm welcome to the blog, it comes with a promotion!
50% off!
So basically instead of paying $319.50 for 75 invitations and reply cards, you would only pay $159.75! (Perhaps it's because my temperamental inkjet has caused me to go a little crazy, but that's a really large discount for us, so take advantage of it now or forever hold your peace.)
However, there is a catch. I know, I know - there's always a catch, but don't worry, it's not that bad. The promotion is only applicable for the Harmony invitation and your order has to be placed and paid for by 5 p.m. (EST) this Friday, July 31st. The invitation is only available as is (this means the colors stay the same, but of course the wording and
fonts
can be changed.) You still get the same great, Earthly Affair invitation, printed on heavy recycled paper (white or ivory available) and created in the most environmentally friendly way possible.
(It's also important to note that our studio will be closed August 14th through the 21st, so any unapproved proofs will not be resume until after we re-open on the 24th of August.)
For more information, you can visit our
pricing page
. Just tally up your totals and then take 50% off to get the cost.
To place an order, give us a call at 404.514.7430 or visit our
contact us
page and let us know your desired quantities, including whether or not you would like reply and/or enclosure cards.