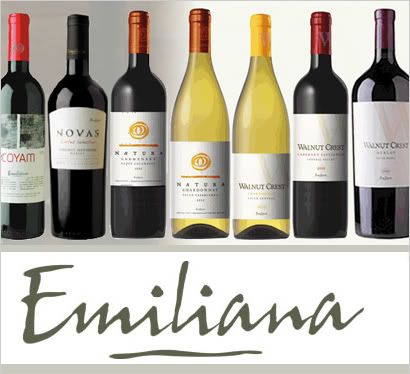 Some will say a wedding without alcohol isn't a wedding. And I agree to some extent. I did go to a Baptist wedding once that had no alcohol, but there was also no dancing. And I kinda feel if you are going to ask your guests to shake their tail feathers, you should at least help them loosen up. Besides, how else are you supposed to capture your husband-to-be's best man doing his famous robot impression on your wedding film? So unless you're really afraid of Aunt Martha jumping from table to table and doing her coyote ugly impression, don't forgo the booze.
An open bar can really run up a tab, so it's perfectly acceptable to offer a few select wines.
Emiliana
offers a line of organic wines, called Natura, and biodynamic wines, both of which are vegan friendly. I'm intrigued by the biodynamic wine, "G," which supposedly has a bouquet of blackberries, raspberries, currants, toasted oak, and cigar box. (A bouquet is the term used for an older wine's aroma.)
Visit
Natura
on Twitter.