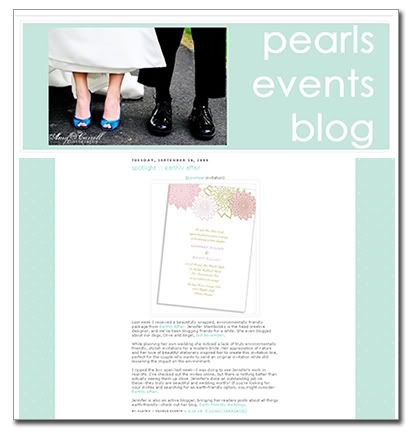 A big thank you to
Aletha
at
Pearls Events
for giving Earthly Affair some kudos! Her blog is always chock full of interesting goodies and we're honored to be featured on it for the
second time
. Thank you Aletha!
I'm not very good at keeping up with whose linking to my blog, but I recently did a Google check and I was delighted to come across so many wonderful blogs and sites that I hadn't seen before. As a result, I have a few others to thank:
Thank you
MetroBlue Photography
for mentioning us in your "
It Really is Easy Being Green
" post.
Thank you
Organic Style
for suggesting Earthly Affair in your
invitation section
.
Share World Love
did a beautiful
post all about Earthly Affair
.
White Lace Wedding
has a great post about
being kind to the planet
.
If you have mentioned Earthly Affair before, or this blog, please let me know. We love to hear from those who support us and the least we can do is mention you here.