A reader recently sent me a few of her wedding pictures, along with an explanation of the meaning behind it, and I was instantly touched. Our featured bride, Vicky, explained how her entire family pitched in to help make her wedding a reality. I really enjoyed her story, so I asked her to share more by answering a few questions. She was kind enough to do so and to provide us with some lovely pictures as well.
Thank you Vicky!
1.) The concept for your wedding was "Made with Love". Would you mind telling us a little more about that?
I think it all started because when my fiance proposed, he presented me with a hand sketch of my engagement ring inside of the little black box. I loved that! Together we went through the process of designing the rings ourselves with a local jeweler. I thought of maybe coming up with a process theme could be really fun. My mom is a seamstress and my dad was a tailor before he retired, so it has always felt strange for us as a family to buy our clothes, or curtains, or basically anything that is sewn together. My mom is a master at creating anything out of fabric or lace, so it seemed natural to use the "Made with Love" as a theme. Making all the outfits seemed like the obvious option. We knew the best places to buy fabric and realized it would be much more economical and fun for everyone. Bridesmaids dresses and flower girl dresses are outrageously priced and their construction is usually pretty cheap. I wanted to give all my friends and cousins clothes that they could reuse and alter to their liking. In the case of the children's clothes, these were heirloom quality and made especially for their parents to keep. All of the hand smocking on the children's outfits were done by my cousins who live in the country in the Dominican Republic.
Rings designed by the groom, Harry
.
2.) What inspired this concept?
When my family members heard about our engagement, it set off an unprecedented amount of creative energy. My mom, my dad, my cousins, my aunts, everyone wanted to help. My aunt from Spain even took the time to hand embroider the garter belt! My parents started making church decorations, all of the bridesmaids and children's accessories, my purse. They bought rolls of linen, cut them, hand embroidered the edges and our initials by hand to give away to the guests. They even made the bookmarks too. It was a complete production that took 1 1/2 years.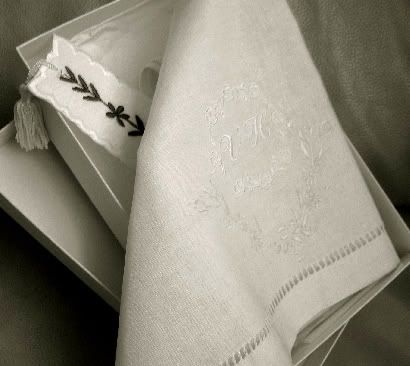 Handkerchief and bookmark gift box
3.) What is your fondest wedding planning memory?
I had sketched and made a small sample of the wedding dress for my mom as a guide to what I wanted it to look like. Unfortunately, my fiancee and I were living in California at the time, whereas my parents were in Florida. I visited Florida once several months before the wedding to try out a 'sample' version of the wedding gown. Some parts of the dress were made separately, especially the embroidering, by my grandmother and my aunt, so I was unable to see those pieces. The next time I returned to Florida was 2 weeks before the wedding and all the time in between I never saw any pictures of the process or the final product of what the dress looked like, since I trusted my mom, to who I was speaking on a daily basis. I remember that when I got to my parents' house all they wanted to do was show me their finished creation. I followed them into my old bedroom and the dress was hung from the ceiling and it was covered by several sheets. My mom and dad suddenly pulled the sheets off and the gown looked totally different than I envisioned it! It was so incredible! It was much more beautiful than I had imaged.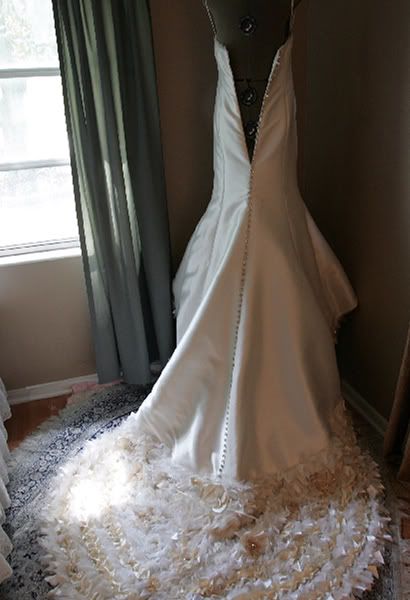 The dress
4.) What advice would you give to brides who want to follow in your footsteps?
I would say to remember to have fun and enjoy the process. It's very easy to focus on the wedding instead of the meaning of the wedding. It's not just about the bride and groom and the pictures but of all the relationships that are created because of their new union. I definitely became closer with so many people in my family, and the experience is something none of us will ever forget.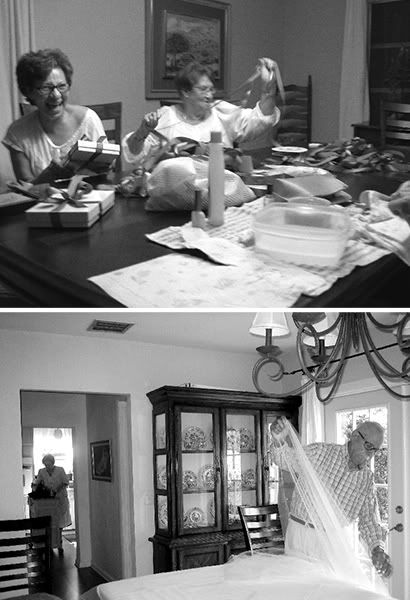 Top picture: mom and grandmother putting together the party favor boxes (containing the handkerchiefs and bookmarks they made). Bottom Picture: father of the bride cutting the tulle to make the veil and church adornments.
The cake with handmade sugar flowers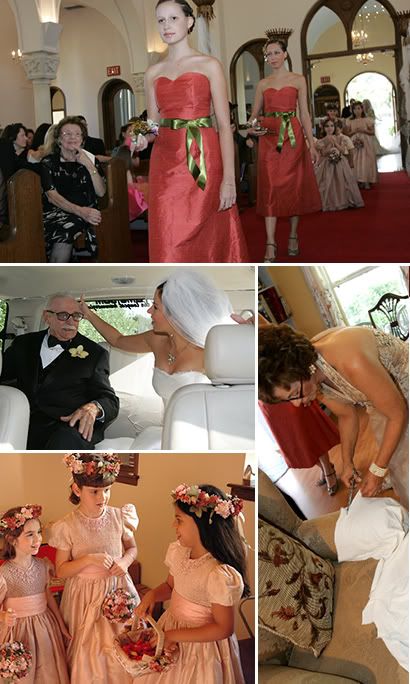 Top picture: bridesmaid dresses made by the bride's mom,

Anis

. Middle Left: the bride, Vicky, and her father, Victor. Bottom Left: Heirloom quality flower girl dresses with handmade smocking. Bottom right: Mother of the bride putting together a new garter belt at the last minute.