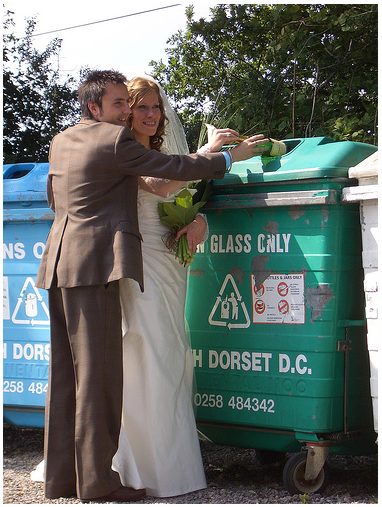 Happy Monday to you all! I'm starting this week off with a refreshing list! 10
inexpensive
ways to have an earth friendly wedding! It's time to dispel the myth that going blissfully green means going unhappily broke. Unless you want to, I'm sure it can be arranged.
Okay, we'll do it Letterman style by starting off with number 10. Let's begin:
Number 10: Donate to the community.
Reduce waste by donating leftover food to homeless shelters and/or food banks in your community. Speak with your caterer about how best this can be done and contact your local shelters for advice. Visit
America's Second Harvest
to search over 200 community food banks.
Number 9: Rethink your invitations.
Choose or create a postcard for your reply card as part of your invitations and leave out the outer envelope
You're Invited
offers a number of handmade envelopes, as well as custom and pre-made invitations with postcard replies.
Number 8: Settle on a City.
Have your wedding in the city where most of your guests reside. This cuts down on the amount of air or car travel, therefor reducing the amount of carbon released in the air. You can also encourage guests to take public transportation or carpool.
Number 7: Greening your Registry.
Create an earth friendly registry. Websites like
Mamas Earth
,
Eco Wise
,
Ten Thousand Villages
, all offer earth friendly registries. A few more places to check out are:
Biome
,
World Wildlife Fund
, and
Earth Friendly Goods
.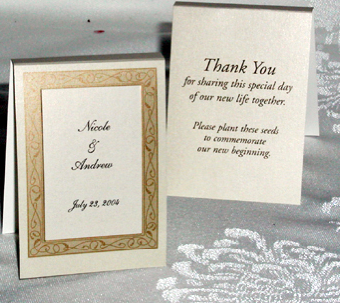 Number 6: Seedy Favors.
Give an earth friendly wedding favor. Try organic chocolates, natural honey, soy candles, or wildflower seeds as wedding favors.
Plant A Memory
offers $1 and $2 favors. Or create your own seed packets.
Flowersoul.com
sells bulk wildflower seeds at a reasonable price. (picture from Plantamemory.com)


Number 5: Thrifty Fruit Centerpiece.
Create an eclectic look by shopping the thrift stores for different kinds of vases and filling them with local organic fruits for your centerpieces. Guests can take the fruits home afterward or donate them to the shelters as well.
Number 4: Something old, Something new, Something USED!
Purchase a used or vintage wedding dress. Reusing items is one of the most earth friendly thing you can do. You may even be able to get a designer wedding dress for half the original cost! And for something that was probably only worn once, that ain't bad! Check out
usedweddingdressses.com
or check around your town to see if any stores sell used dresses.
Number 3: Give up the cameras, not the pictures!
One popular idea is to provide disposable cameras on each table. Instead, ask guests to bring their own digital cameras (almost everyone has them now). You can then set up a community album on flickr or photobucket, which guests can use to upload their photos too.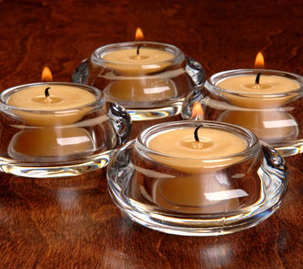 Number 2: Burn Baby Burn!
Use soy or beeswax candles to decorate and add ambiance. Soy and beeswax candles burn cleaner and last longer. (picture from
Bluecorn Naturals
)
DRUM ROLL PLEASE...
THE NUMBER ONE INEXPENSIVE WAY TO HAVE AN EARTH FRIENDLY WEDDING:
Number 1:
Elope! Skip the favors, the flowers, the menu, the entertainment, etc... Of course, that's not a plausible number one for most of us and if it were, I probably wouldn't be writing in this little blog, so I'll provide an alternative number 1.
ALTERNATIVE Number 1: Spread the word!
This is your wedding. It's a celebration between and for two people who love each other and the principles and values that bind them. Take the opportunity to share with your guests those values. Show them how you made your wedding earth friendly and you just might inspire a few of your guests to throw their cans into the recycle bin next time, to search for the organic certified label when they buy fruit, or maybe even start taking the bus to work.
(Top Picture from
KidaPot
on Flickr.)